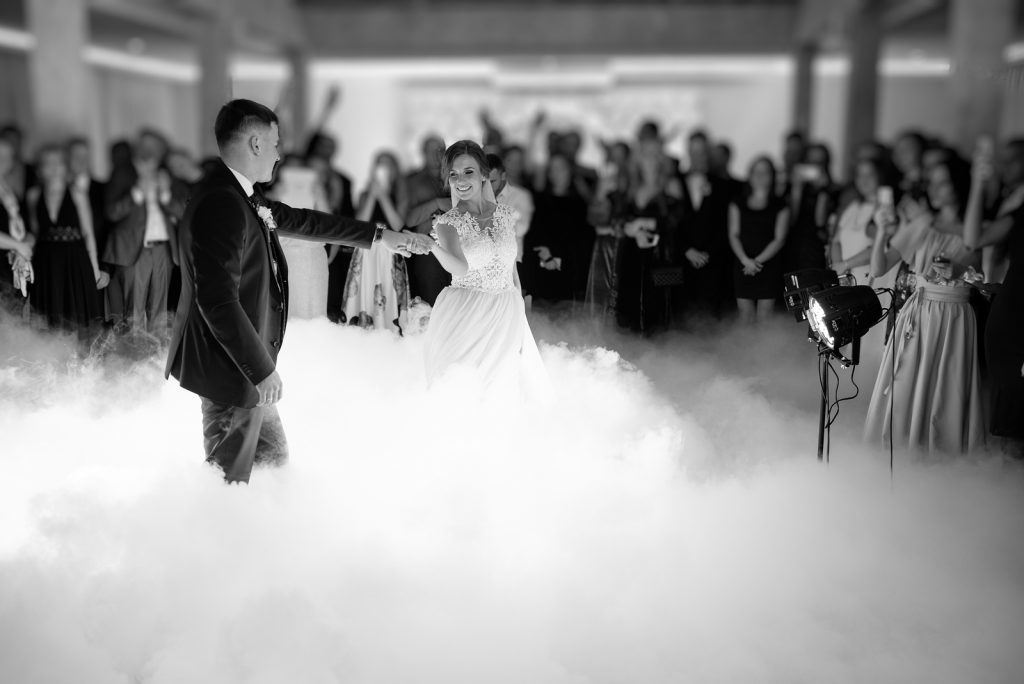 Your first dance is always one of the more memorable moments of your wedding, as well as your marriage. It's the first time you'll be dancing together as a married couple. It's a beautiful, meaningful moment that you'll remember forever. This is why selecting your first dance song might be difficult. Usually the best option is a song that you both love and holds meaning for the two of you. Or it could be whatever the bride chooses (sorry, guys!). At Olympia Banquet Hall, we've heard so many first dance songs triumph and fail that we decided to put together a list of 20 classic first dance songs to give you some ideas.
1. "Everything" By Michael Bublé
This song is romantic, but not too slow. It has just the right pace to make it one of the more fun first dance songs.
2. "Can't Take My Eyes Off Of You" By Lauryn Hill
There's also the Frankie Valli version which is great, but we personally love the Lauryn Hill version of this song. So romantic.
3. "Fly Me To The Moon" By Frank Sinatra
How can you have any wedding without a little Sinatra?
4. "Stand By Me" By Ben E. King
One of the all time most beautiful first dance songs, this classic about standing by your partner through everything still melts hearts.
5. "Best Is Yet To Come" By Frank Sinatra
Another classic by Ol' Blue Eyes—isn't everything he does a classic anyway? This song is all about the future and how it will get better, and it's a little more upbeat than other songs.
6. "You're My Best Friend" By Queen
You might not think of Queen to be a "first dance" type of band, but this one is an absolute gem. Just listen to the lyrics, and Freddie Mercury's voice makes bassist John Deacon's lyrics completely come to life.
7. "Come Rain Or Come Shine" By Ray Charles
A little slower-paced, but a classic choice as a first dance song. Ray Charles captures exactly what marriage will be like for many couples.
,
8. "Here And Now" By Luther Vandross
Any first dance song list would be incomplete without adding a song from Luther Vandross. This is a perfect choice for a slow dance.
9. "I Will Always Love You" By Whitney Houston
Arguably one of the greatest voices of all time, Whitney Houston absolutely brings it in this classic love song. An excellent choice to put on your shortlist!
10. "Back At One" By Brian McKnight
Brian McKnight professes his love with one of the most classic R&B songs of all time. This is bound to give your guests goosebumps!
11. "Nothing Else Matters" By Metallica
You're probably not thinking of Metallica when it comes to first dance songs, but this one absolutely deserves to be placed on this list. It's become quite a popular song choice.
12. "Your Song" By Elton John
Elton John professes his love in one of his most classic songs, "Your Song". It exemplifies someone professing their love and what they'd want to do for the person they adore. Elton's incredible vocals with the gorgeous melody make this one a perfect choice.
13. "You Are So Beautiful" By Joe Cocker
How much more classic can it get than this? Many people have listened to this song and shed a few tears. It perfectly sums up how someone feels about their loved one.
14. "Thinking Out Loud" By Ed Sheeran
Ed Sheeran is quickly rising up the charts as one of the great love song writers. This one is becoming a more and more popular choice for first dance songs.
15. "All Of Me" By John Legend
John Legend is able to capture perfectly what so many guys are thinking when they meet that special person. Lots of confusion, lots of intrigue, and lots of love.
16. "I Won't Give Up" By Jason Mraz
"I won't give up on us, even if the skies get rough, I'm giving you all my love, I'm still looking up." So many men and women can relate to this. Relationships are hard work, and Jason Mraz sums it up well.
17. "Can't Help Falling In Love" By Elvis Presley
What's a first dance song list without the King? We've seen this one used many times, and it always works without fail. An excellent choice for a first dance song.
18. "I Don't Want To Miss A Thing" By Aerosmith
From the first line in this song, Steven Tyler expresses what it means to be truly in love with someone. It's all the small things that we learn to love and enjoy.
19. "What A Wonderful World" By Louis Armstrong
Louis Armstrong's gravely voice takes you through a journey in this song. Almost every time we hear this song it brings tears to our eyes.
20. "Marry You" By Bruno Mars
This is such an upbeat love song, far different than most first dance songs. Bruno Mars shows exactly why people want to get married!
First Dance Songs: Conclusion
There are so many romantic choices to choose from, but it's always best to choose something that has great meaning to you both as a couple. However, if you're not able to choose, that's why we put together this list of first dance songs! There are classic songs and newer ones, all of which perfectly sum up what it means to be in love, and that's the most important thing! Your song should be an expression of how you feel about each other.