Wedding signs have been a huge wedding trend for over a decade now, and while they can be quite helpful, wedding planners and professionals are saying it's finally time to take a step back from them — or at least take a step back from so many of them. Wedding signs are fine, but they shouldn't overtake your wedding's look or become too numerous. For instance, do you really need a send-off sign? Or a "here comes the bride" sign? Or a tacky "hurry up, I want cake" sign for the ring bearer?
The wedding signs you choose to have are up to you as a couple, but it can be very easy to become overwhelmed with too many (especially if you begin Googling "wedding signs" and start to fall in love with all of them).
Here are the basic wedding signs you may need.
Parking
If you choose a wedding venue where the parking isn't clear, you may want to provide clear parking signage. About 1-3 directional signs to show people where to park should work. It's always a good idea to ask your wedding venue if they provide them; this could save you some budget money. Helping your guests clearly understand where to park will help keep your wedding on schedule.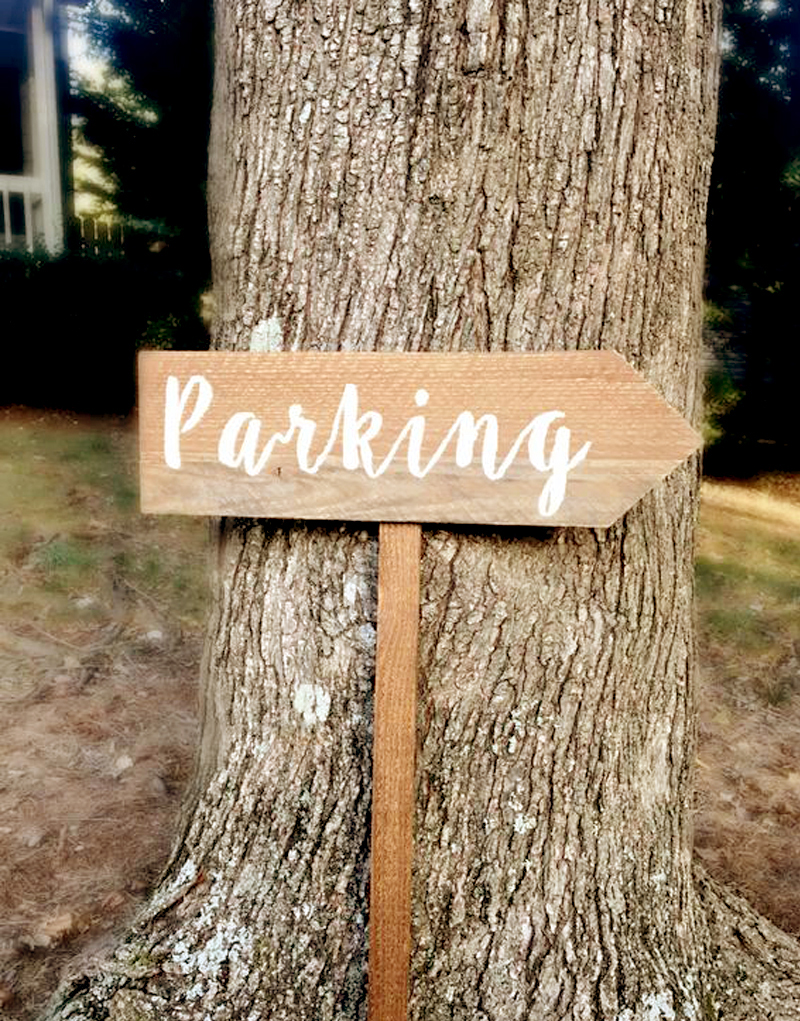 Image: Etsy | BarnwoodRustDesigns
Welcome
A "welcome to our wedding" sign isn't exactly essential, but guests always love it. It immediately sets the tone and vibe of your big day, and often makes a lovely keepsake. (Some couples even turn their wedding welcome sign into their guest book.) A wedding welcome sign is also helpful if your wedding venue is sprawling or has a lot of pathways and rooms.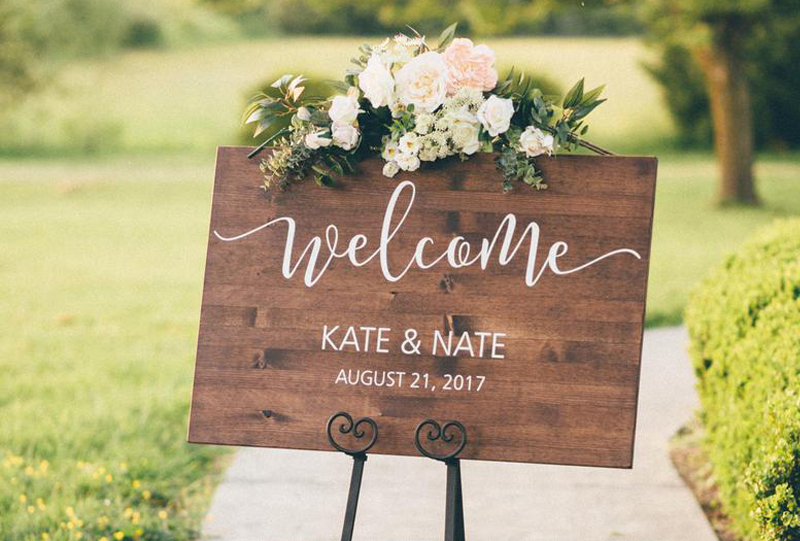 Image: Etsy | WeddingsDecorStudio
Directions
If you're getting married in a wedding venue that is in any way confusing (lots of hallways, rooms, outside pathways, etc.), it's a very good idea to have directional signage.
Pointing your guests toward the ceremony, cocktail hour, reception, whatever will be greatly appreciated by everyone if your venue has lots of twists and turns.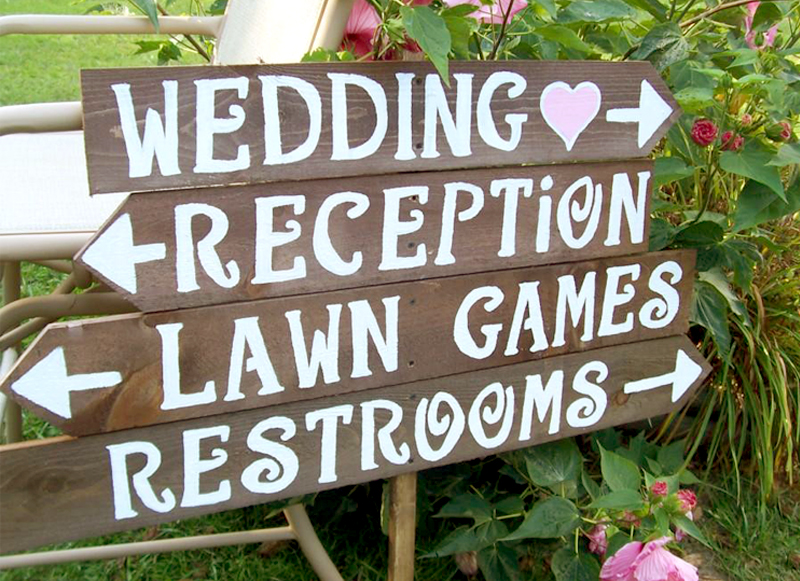 Image: Etsy | primitivearts
Order Of Events
Paper wedding programs are becoming a thing of the past, which is great because it helps our environment and also saves you money.
However, some couples still want their wedding guests to be able to see the order of events or have other information that would traditionally go onto a wedding program. This is where a large sign for order of events is needed. Having one big, centrally-located sign for this will ensure that your wedding guests can see the program order.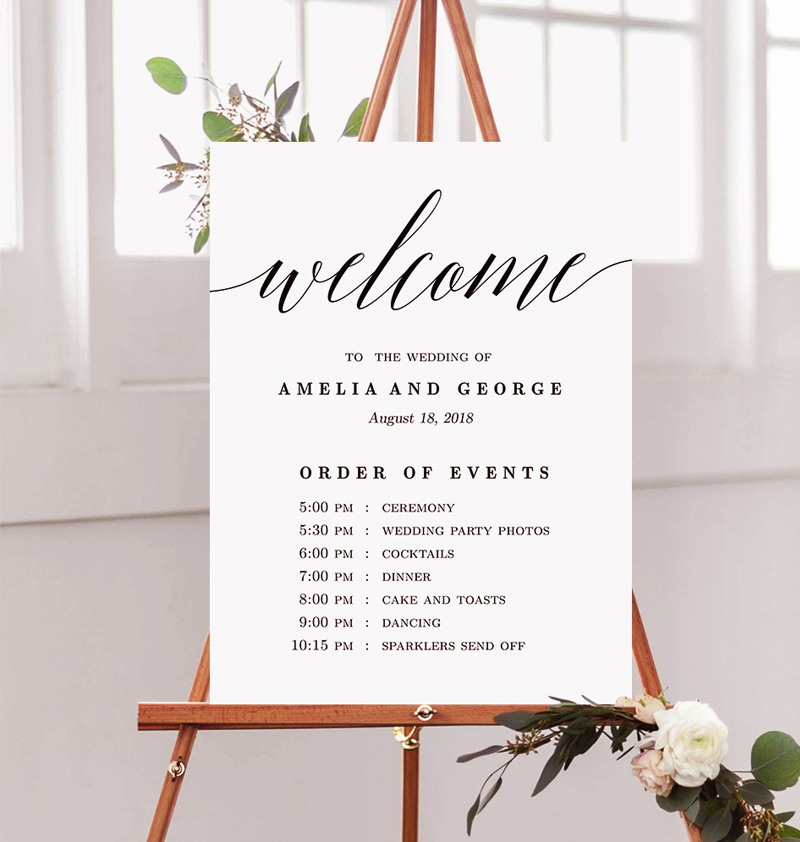 Image: berryberrysweet.com
Some couples choose to combine the order of events sign with the wedding welcome sign (like the one above) to save money and cut down on how many signs there are.
Reserved Seating
A reserved seating sign is a good idea just to make sure that no one sits in the seats reserved for family and other special guests during the ceremony. These seats are typically empty because family is escorted in right before the processional, and sometimes wedding guests think those seats are available. (Some people honestly just don't realize.) having a "reserved" sign on the row or seats will help greatly.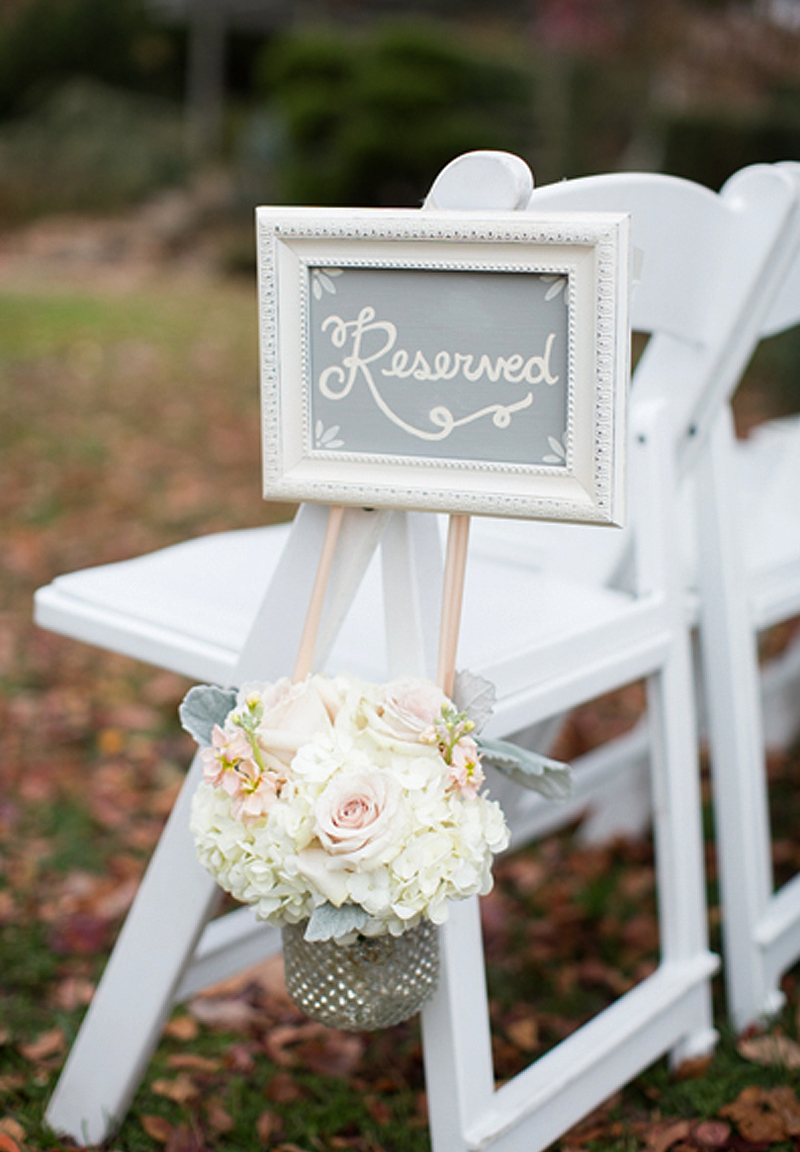 Image: Abby Grace Photography via southernweddings.com
Unplugged Ceremony
If you're having an unplugged ceremony (a ceremony where guests turn off their phones), it's a very good idea to have an "unplugged ceremony" sign. This acts as a polite reminder that phones should be turned off and put away. While it's not 100% necessary, it's a helpful addition if you're serious about not wanting phones out.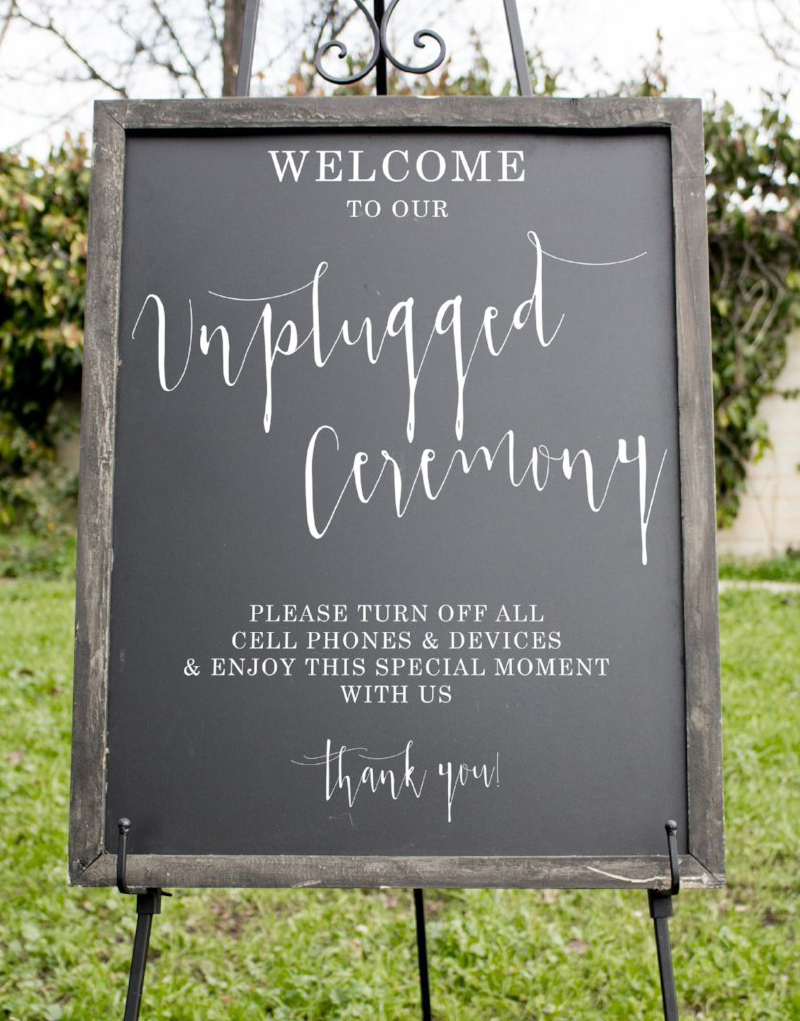 Image: richdesignco.com
Anything Instructional
If you're including anything "interactive" at your ceremony or reception for your guests such as take-a-Polaroid-leave-a- Polaroid, build-your-own-dessert bars, or signing something unique, you may want to include a sign explaining what they're supposed to do. You'd be surprised how often people can get confused.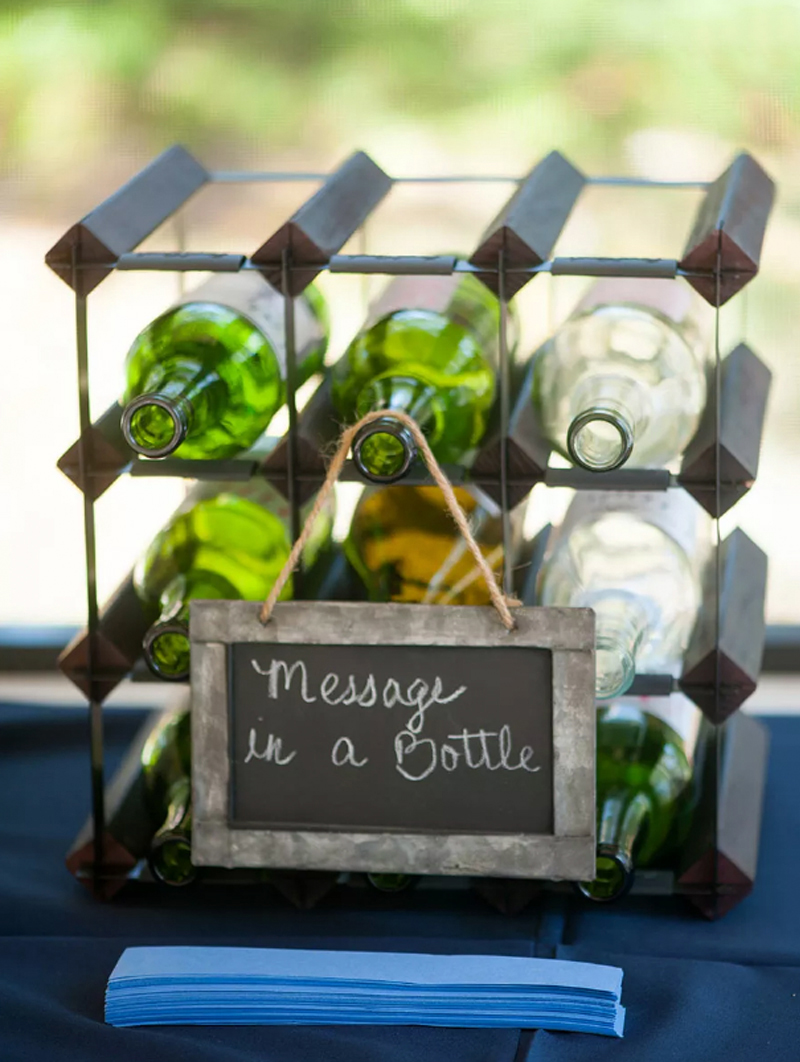 Image: KB Digital Designs via theknot.com
Seating Chart
This one is similar to the wedding program: one giant sign for everyone instead of using lots of paper.
If you have arranged seating and you don't want to use paper escort cards, a seating chart sign with your guests' names and their table number will help everyone find their place conveniently and quickly.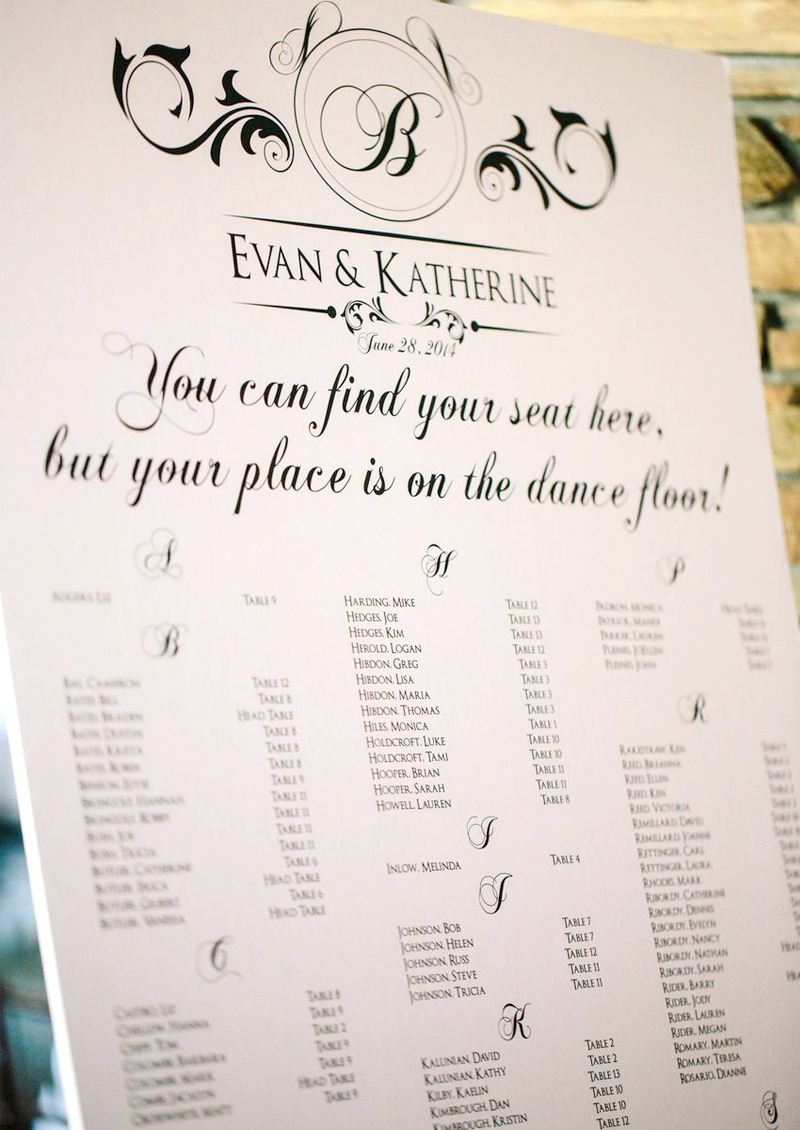 Image: Lyndsay Undseth Photography via modwedding.com
Hashtag Sign
This is for those couples who are planning to have a wedding hashtag. Sure, you've probably included it on your wedding website or save the dates, but an actual, physical sign with #whateverweddinghashtag will remind your guests that they should be tagging the event on social media.
We recommend having about 1-3 wedding hashtag signs. Good locatins are the bar, your gift table, or where the guest book is.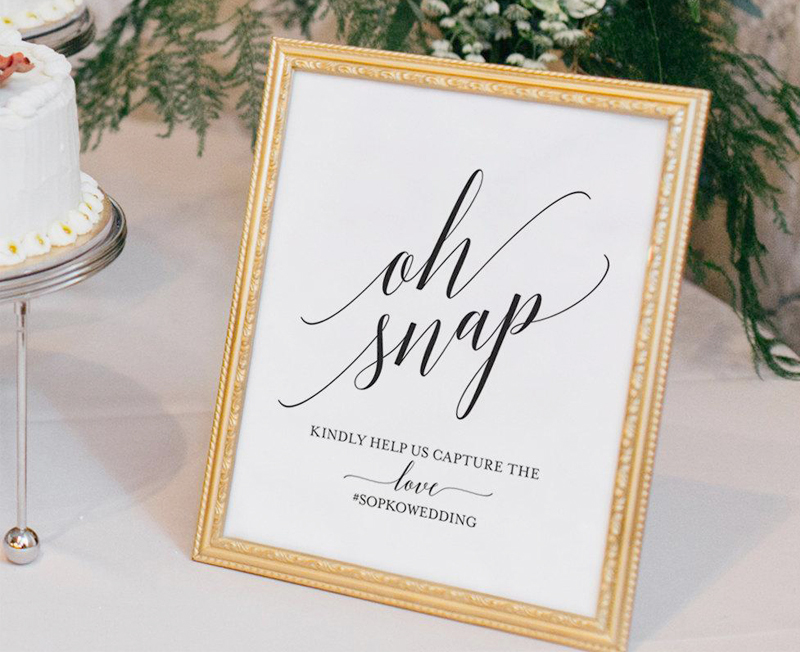 Image: blisspaperboutique.com
Gifts & Cards
Why is it important to have a sign for your gift table? Because someone has to be the first to leave their gift or card, and a sign will help them know they're putting it in exactly the right place.
No matter what the style of your wedding is, a "gifts and cards" sign is one of the most important ones to include. Don't skip this one.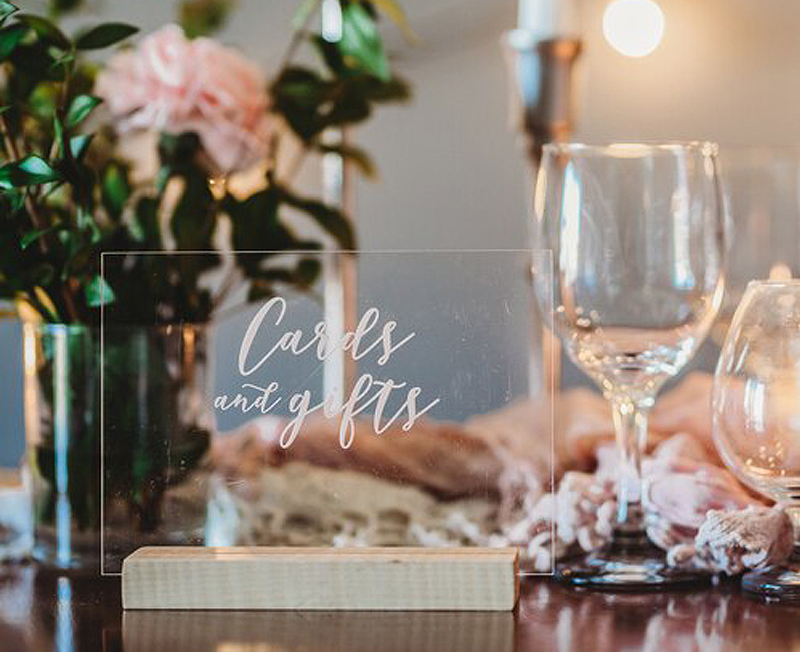 Image: juniperengraving.com
Wedding signs are a great way to clarify and communicate to your wedding guests, it's true. Just be careful to not go overboard. Choose only the signage that's necessary, and be creative with it! Good luck!