Part of the fun after your wedding day (other than your honeymoon) is looking back at the pictures your family and friends have posted on social media that they took during your big day. One of the more fun and popular ideas that couples have been doing lately is creating a wedding hashtag for their guests to use. This makes it easy to see all the pictures they've posted in a neat and organized fashion when they use your specific hashtag. But how do you come up with one? You'll want to put some thought into making it creative and memorable.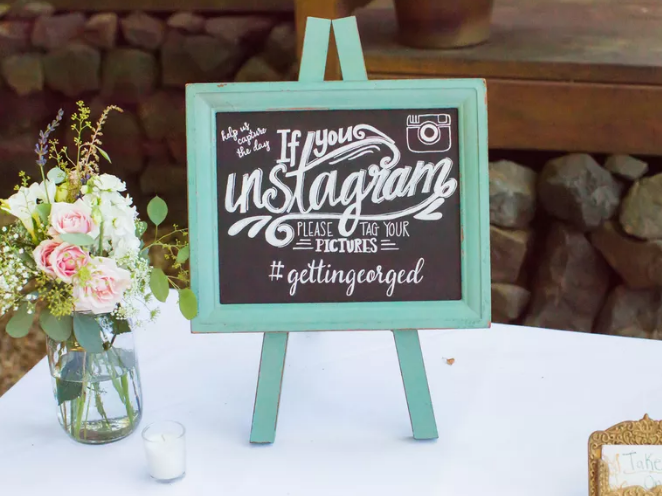 Image: jamesandjess.com
1. Capitalize The First Letter Of Each Word
To make it easier for your guests to read and to limit mistakes, make sure you're capitalizing the first letter of each word that you use.
For example, instead of #jennaandtom, you'll want to use #JennaAndTom. See how much easier that is to read? If it's easier for you to read, that means it's easier for your guests as well. You'll want to limit confusion as much as possible so that photos don't get hashtagged into oblivion.
2. Consider The Arrangement Of Words
When you're coming up with your wedding hashtag, make sure you take into consideration easy misspellings.
Take the example from above, #JennaAndTom. This one might cause misspellings from guests because it has the letter a back-to-back. You might consider flipping it to #TomAndJenna to avoid back-to-back letters which can often cause mistakes.

3. Make Sure Your Wedding Hashtag Isn't Too Long
This one is tricky, as there isn't a perfect length for a hashtag. But when you see one that's too long, you can tell right away.
No one wants to type out #TomAndJennasWedding021519. It's just too long, and will get very confusing. Maybe there are other Tom and Jennas getting married, but chances are you're not going to have to worry about mixing up your wedding hashtags.
4. Have Fun With It
Make sure you take the time to get creative with your wedding hashtag.
Consider using alliterations, rhymes, wordplay, puns, and whatever else you may have in your literary tool belt. Being creative is going to make it stand out compared to other hashtags and decrease the likelihood that another couple has something similar to yours.
If your last name is Rafter, you might consider the pun, #HappilyEverRafter.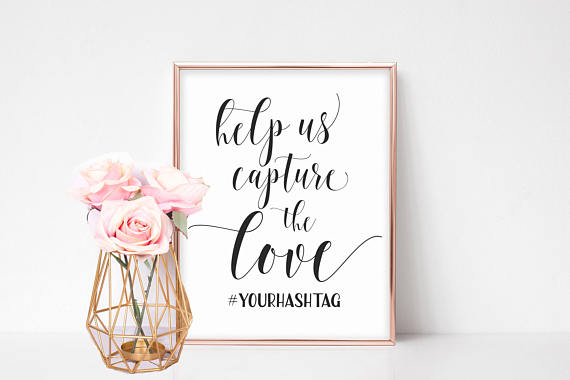 Image: etsy.com/shop/FancyandFlair
5. Consider Your Location
Make sure you take into consideration the location where you're getting married. If it's a big city or in a unique location like a barn, consider using that in your hashtag to make it creative.
6. Don't Use Acronyms
Avoid using an acronym as your wedding hashtag. No one is going to know what the heck #TAJAGH means (it means "Tom and Jenna are Getting Hitched"). It just looks like a word that somebody coughed up, and it will be very easy to get wrong.
If your hashtag is so long that you need to create an acronym, then you should probably scrap that idea and go back to the drawing board.
Bonus Tip!
Once you've settled on your wedding hashtag, how are you going to make your guests aware of it? There are plenty of options. Consider including it on your Save the Dates, or your wedding website. You can also have it on the place cards at tables of your reception venue, and there is also a lot hashtag sign ideas of on Pinterest.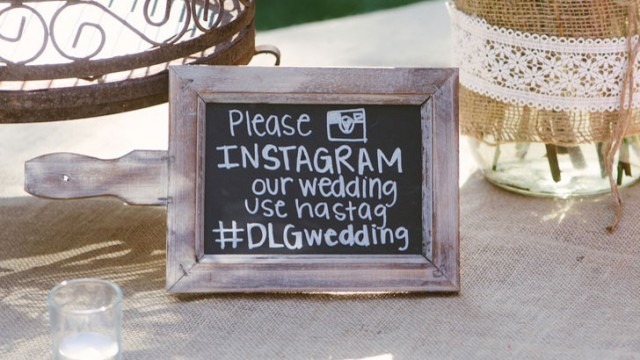 Good luck! Creating your own wedding hashtag can be so much fun. And if you're looking for a reception venue in Los Angeles, consider Olympia Banquet Hall. Check out our photos, and please contact us with any questions!