There's nothing wrong with a traditional wedding guest book, but many couples like to do something more personal and fun for theirs—something that perhaps reflects the theme of their wedding, or at the very least makes a nice piece of décor for their home.
There are countless wedding guest book ideas, but here are some of the best ones we've seen at Olympia Banquet Hall. Hopefully this will give you a little inspiration for your own wedding guest book!
Engagement Shoot Guest Book
A great wedding guest book idea is to utilize your engagement photos. Turn those pictures into a book for your guests to sign, and make it extra personal.
There are plenty of companies that are great for turning your photos into a book.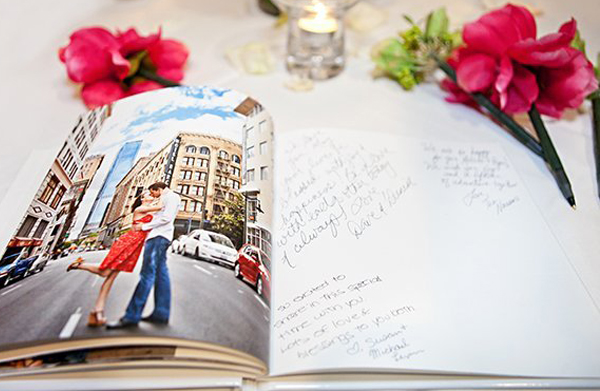 Image: SDK Photo & Design
Polaroid Guest Book
A very popular wedding guest book idea is to have your guests snap Polaroid pictures of themselves and sign their names on them. Or they can go ahead and put them into the book and write a little note next to their photo.
If you choose to do this, be sure to provide Sharpies for your guests to write with, and make sure they don't take the Polaroids with them!
Shadow Box Guest Book
Not all wedding guest books have to be actual "books". A great piece of décor is a shadow box wedding guest "book", where your guests can sign a small wooden heart (or other item) and add it to a shadow box for a lovely and sentimental effect.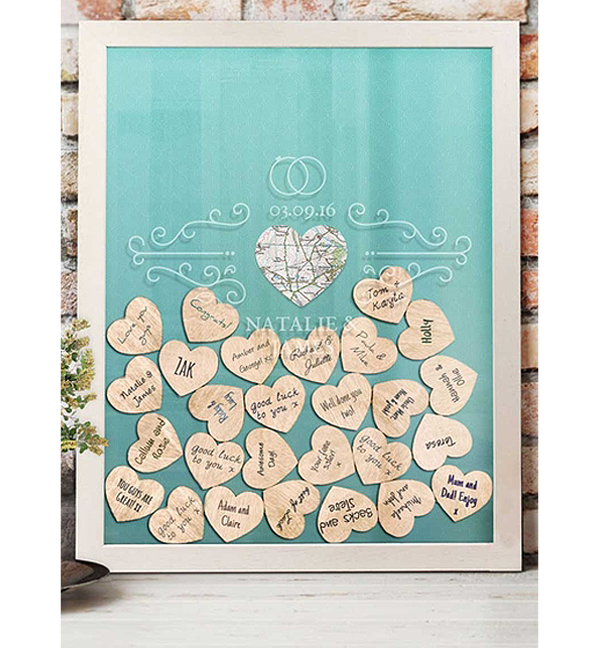 Image: comforthouse.com
Thumb Print Guest Book
Thumb print wedding guest books are very cute, and allow your guests to get creative. You can go the route of having their thumb prints become part of a backdrop (like leaves on a tree), or you can have them make a thumb print and then draw their own "face" on it.
Either way, a thumb print wedding guest book idea is very charming. We suggest having alcohol wipes nearby to avoid getting ink on nice clothing.

Image: Andie Freeman Photography
Dictionary Guest Book
This is one of our favorite wedding guest book ideas.
Buy a dictionary, then ask your guests to select a word that makes them think of you as a couple. Have them circle the word, sign their names, and leave a message incorporating that word.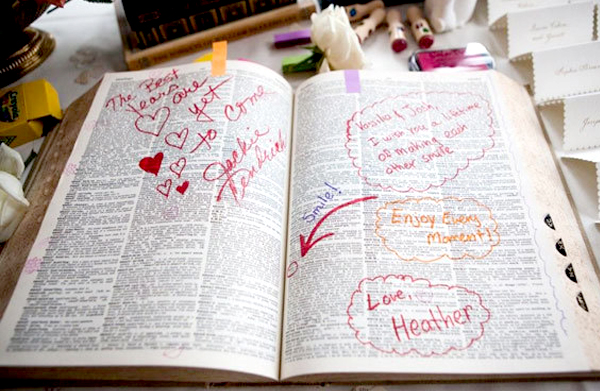 Image: Nancy Cohn Photography
It helps to include a sheet of paper where the guests can write their name along with the page number they wrote on to help you find their messages more easily.
Christmas Ornament Guest Book
Another one that's not exactly a wedding guest "book", but very meaningful nonetheless, is Christmas ornaments.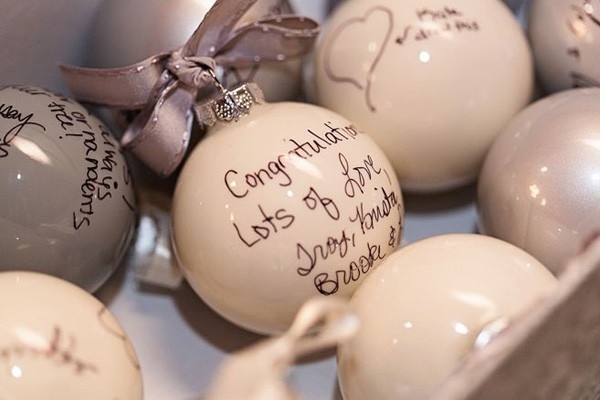 Image: mywedding.com
If you celebrate Christmas, having guests sign and decorate them is a cute idea—especially if you're having a wedding close to the holidays.
Guest-signed Christmas ornaments will make a sweet addition to your Christmas decorating.
Photo Booth Guest Book
Almost everyone loves photo booths at the reception—and they can double as wedding favors AND guest book memories.
Have your booth operator (or wedding coordinator, or another appointed helper) to print two copies of each photo strip. That's one for them to keep, and another for them to add to your guest book!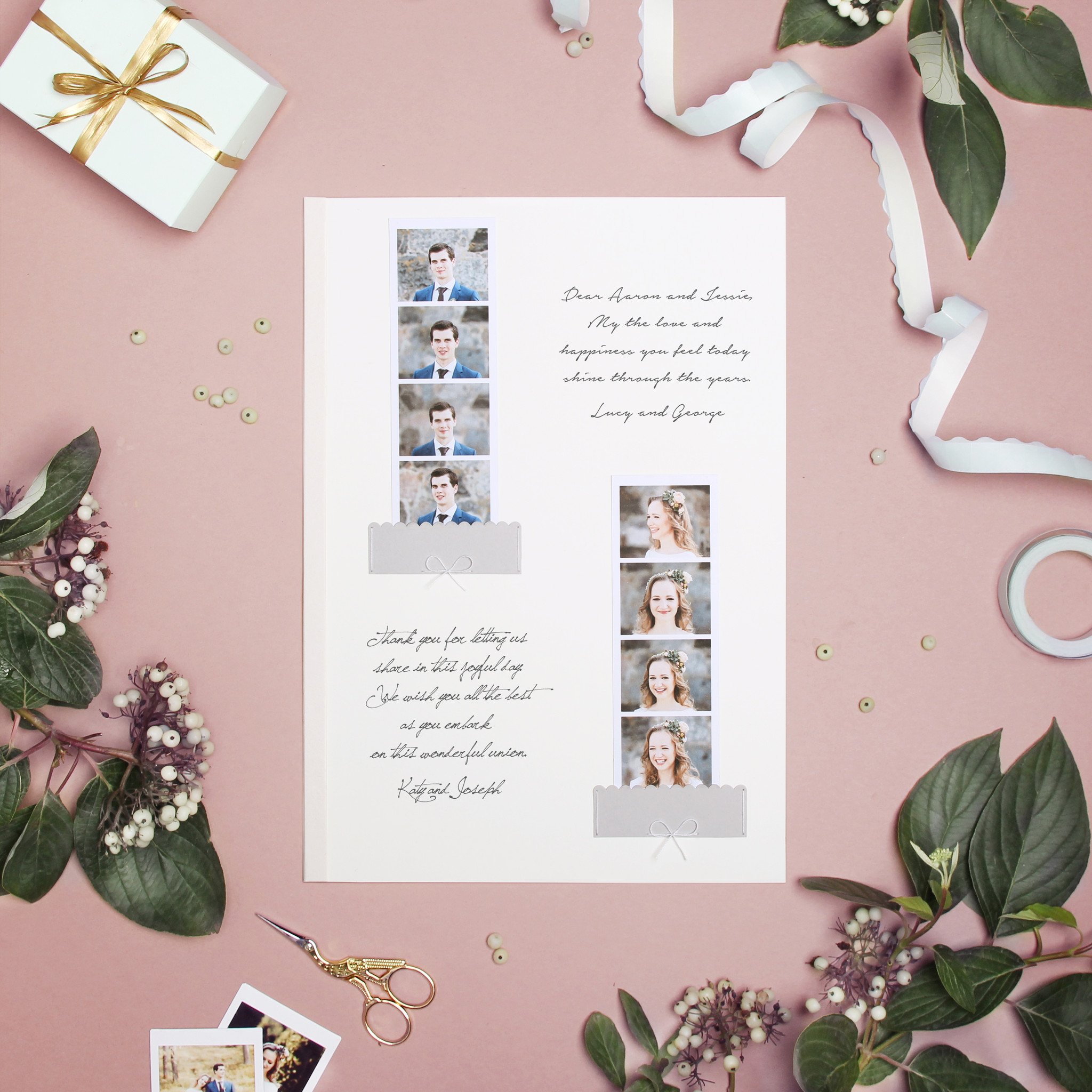 Image: liumy.net
Similar to the Polaroids, they can write a message next to their picture or simply sign them.
Puzzle Piece Guest Book
Just as you and your partner fit together perfectly like a puzzle, so can your wedding guest book. Have each guest sign an individual puzzle piece, then later put it together as a couple and enjoy! You can either display it, or continue to put it together on rainy nights in.

Image: etsy.com/shop/BellaPuzzlesToo
Photo Mat Guest Book
Popular for home décor, photo mat wedding guest books are beautiful and very meaningful. Have guests sign the mat part of a sentimental piece of art that means a lot to both of you as a couple.

Image: Magnolia Photography
Initial Guest Book
Another wedding guest book idea that's perfect for home décor is your last name's initial. This is one fantastic because you can choose from so many different options. Have your guests sign either one initial or combine both of your names (first name letters, or your last name first letters if you're keeping your same names).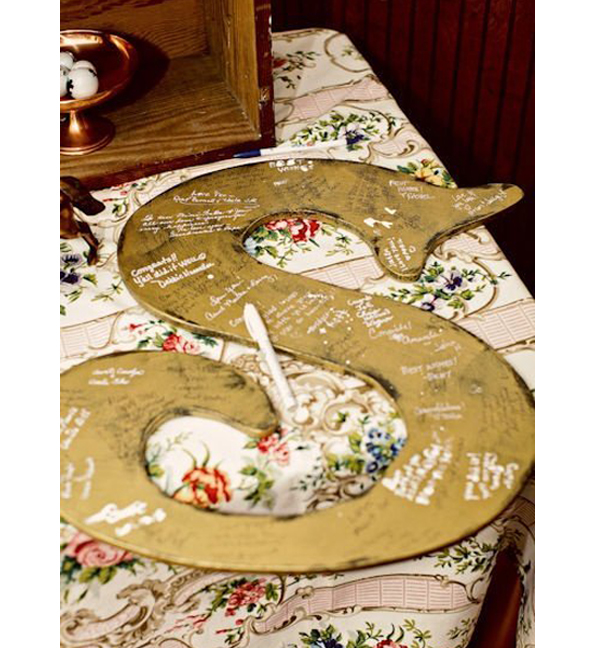 Image: Christina Carroll Photography
Hopefully this fun list of wedding guest book ideas gets your wheels turning for your own wedding! And if you're currently looking for your wedding venue, please check out our photo gallery at Olympia. We would love to host your wedding! You can also contact us for more information.