Is it your first time being asked to be the best man? Are you nervous about the best man speech you'll have to give? It's all right—you're not alone. Being afraid of public speaking is one of the most common fears in the world. After all, you'll be delivering a meaningful speech in front of a lot of people. Despite this, you can still give an amazing best man speech. Take a look at our guide to get you into shape.

Writing Your Best Man Speech
This article will be broken down into two major sections: writing the speech and delivering the speech.
In the first section, we'll go over the best tips on writing the perfect best man speech.
Timing Is Everything
Even if you're not a nervous wreck and you're actually pretty comfortable in front of other people, you don't want to be standing up delivering your best man speech for too long. We recommend keeping it between 2-4 minutes long.
A speech under two minutes isn't quite enough to give it the weight it needs, and anything longer than four minutes will start to drag on (unless you're the most incredible speaker in the world).

Explain Who You Are
This tip might sound extremely obvious, but many of the guests at the wedding venue won't know who you are, so it's smart to take a brief moment during your best man speech to explain to the crowd who you are and how you know the groom. This will create a better understanding for the audience for your jokes and anecdotes later on in the speech.
Talk About Your Relationship
Once the crowd knows who you are, it'll be easier to bring up key moments to your relationship with the groom—so go ahead and mention a few important times throughout your friendship. Touch on moments where he came through to help you out in a situation (make sure that situation is something appropriate for the speech), or perhaps how you met.
Tie In Some Jokes…
You'll probably want to weave in some jokes here and there throughout your best man speech. In between the touching moments, you'll want to break it up with a little laughter. These are the things great speeches are made of.
…But Keep Them Mostly Tame
It's important to know your audience. You're probably in a room filled with the bride and groom's family, and some of them may be quite conservative or easy to offend. You don't want to do that.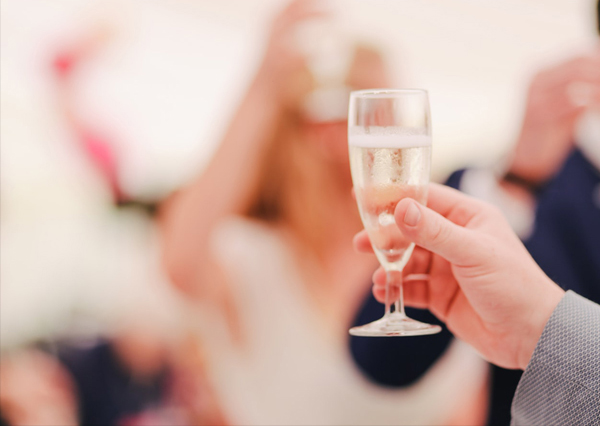 Avoid making jokes about exes or drunken nights out with frat friends that aren't appropriate for the setting. Reserve those for the bachelor party, and keep your best man speech more meaningful on a deeper level.
Avoid Talking About Yourself Too Much
Remember that the best man speech isn't about you. While you're definitely going to introduce yourself and likely be a part of the jokes and stories you'll tell, do avoid talking about yourself too much. No one will be there to listen to you go on and on about your own past, endeavors, or goals.
Roast, But Don't Humiliate, The Groom
When you're telling stories and jokes, it's okay to embarrass the groom a little, but don't go too far.
You're painting a picture of the groom with your speech, and within that, you should try and give a wide-angle view—but don't go so far as to completely humiliate him in front of his family and friends…on his wedding day.
Make Sure To Talk About The Bride…
It might sound cliché, but you'll want to compliment the bride on how amazing she is and how beautiful she looks.
Avoid discussing how, when you first met her, you weren't sure she was "the one" (even if it is true). Instead, talk about how she's helped make the groom a better person and how you've seen so much growth from both of them.
…But No Jokes About The Bride
No matter what your relationship with the bride is, you should avoid picking on her at all costs. The wedding is not the time or place to try and get a few jokes in about her. Even if you think she'll find it funny, just don't. You don't want to risk upsetting her on such an important day. Save it for their one-year anniversary! (Kidding.)
Delivering The Best Man Speech
Now that you've written and re-written it a dozen times, it's time to start practicing and delivering the best man speech.
Practice Makes Perfect
Sounds cliché, doesn't it? But there's absolute truth in this old saying. If you're nervous about delivering the speech, the best thing you can do is to be as prepared as possible.
Practice reading the speech in the mirror until you've got it mostly memorized. Time it. Test it with a trusted friend (just not the groom).
If you've got specific moments in the speech that you want to emphasize, you can use body language to do that. Doing this in front of the mirror will give you a good idea of what the audience will see and you can better perfect your delivery.
Try To Be Fairly Sober During The Speech
If it's your good friend's wedding, chances are you're going to be enjoying drinks at the reception. But before you go deliver your speech, make sure you aren't too drunk.
If you need a drink to ease your nerves a little, that's completely fine. What you don't want to do is to deliver your speech slurring your words or having trouble keeping balance. It will embarrass everyone in the room, and mainly you.
Read The Room
If you're reciting your speech and you see that you're bombing on some of your jokes, you might want to improvise and cut out the next one.
Try to have a backup joke or anecdote stored in the back of your mind in case some of your written ones are a flop. As any good stand-up comedian will tell you, being able to read the room can make a world of difference in how you deliver your speech.
Don't Read Off Of Cue Cards
Not only does staring down, reading off cue cards disengage the audience, but your voice won't project properly. If you read off of cards you'll not only lose the audience's interest, you'll also make your speech difficult to hear for those that are actually still listening.
Make sure to make eye contact with the crowd and pan to either side of the room from time to time.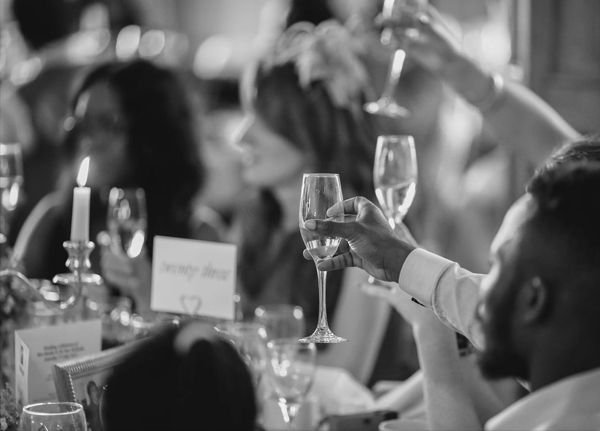 There you have it! Hopefully these tips will help you as you write your own best man speech. Remember to have fun and try your best not to be nervous. And if you're currently looking for your perfect Los Angeles wedding venue, take a look at our photo gallery at Olympia, and contact us with any questions!