For many couples, planning a wedding can be extremely stressful. There are endless things to do: finding your wedding venue, booking a photographer, figuring out who will be in your wedding party, choosing your wedding flowers, figuring out the menu.
But don't worry—there's also a lot of incredible technology available that can help with the wedding planning process. Your computer and smartphone are goldmines for information.
Here are the best wedding websites and apps to help you keep everything on track and organized.
1. The Knot Wedding Planner App
Not only is The Knot one of the best wedding websites, they have also put together a fantastic wedding planning app which provides a wedding checklist, a budgeter, vendor suggestions in your area, and unique ideas for your wedding. This app is pretty much the complete package, and is easily one of the best wedding apps out there. You can download it for Android or iPhone here.

2. Mint
If you're looking for a budgeting app, look no further than Mint. While the app is meant for more than just weddings, it will certainly provide everything you need when budgeting for yours. It allows you to budget and track expenses, create and manage your goals, and much more. This is a great app for all your budgeting needs. You can download it for Android here and for iPhone here.

3. myPantone
Choosing the color scheme for your wedding is both very important and difficult! With the myPantone app, you're able to choose one of the main colors that you want for your wedding and the app will provide you with other colors that match well with the one you chose. This is a dream for whoever is planning the wedding: no more simple guessing about what colors work the best together. As far as color goes, this is one of the best wedding apps. It's not free, but it also won't break your budget. You can get the app for $7.99, and you can download it for Android here.

4. AllSeated.com
Here's one of our favorites. Are you having a difficult time making your wedding seating chart? Head over to AllSeated.com and sign up with a free account. You'll be able to completely design your floor layout and add tables, chairs, and everything else. It makes the seating process both easy and fun. This is one of the absolute best wedding websites!

5. Trello
Desperately in need of some organization? Ditch the pad and pen and get the Trello app. Not exactly a "best wedding website", but Trello is a task manager that allows for collaboration. This is a great tool for you and your partner to ensure everything is getting done. You can create different cards (tasks) and update them as they are completed. You can also take photos and add them to the specific task at hand for a frame of reference. You can download the Trello app for Android here and for iPhone here. You can also use their website at Trello.com.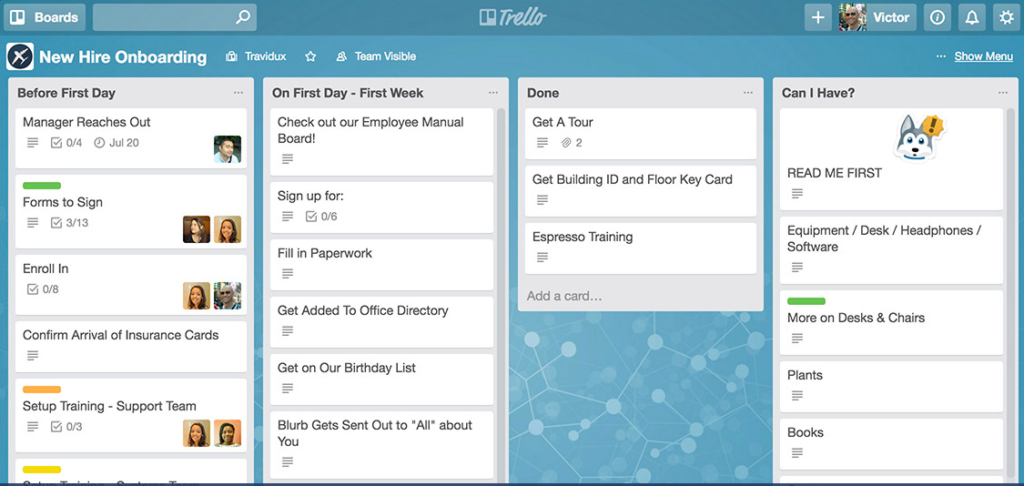 Hopefully this list of the best wedding websites has helped you. There are so many apps and tools for wedding planning right at your fingertips, why not take some of the stress out of the process by using them? There's no reason to not be organized for your big day. Plan ahead with your loved one and ensure that you've got everything taken care of.
If you're still looking for your perfect Los Angeles wedding venue, please consider Olympia. You can contact us for an in-person tour or if you have any questions!