Many brides choose to do their own wedding makeup. Whether it's to save money or because you simply prefer to do it yourself, there are some time-tested tips to know beforehand.

Spoil Your Skin For Weeks
Baby your skin in the months leading up to your wedding. This means facials, moisturizer, masks, everything! Don't overdo it so much that your skin becomes too dry, but this is a great time to spoil yourself—especially if you're doing your own wedding makeup.
Those months of care will definitely pay off on your wedding day when your skin looks incredible and glowing.

Give Yourself Options
We all love Pinterest for inspiration and YouTube for makeup tutorials, so take advantage of those tools and choose several wedding makeup looks you love—then practice doing them.
Don't just wing it, and don't wait until the day of the wedding. Select at least five, practice them, take photos, and then choose which you prefer.

Get Experimental Months In Advance
If you want to try some new skin care or makeup products, it's wise to start playing around with them well in advance of the wedding in case your skin doesn't take well to them. This goes especially if your skin gets irritated easily.
It's fine to experiment—just don't do it the week of the wedding. And if your current skincare regimen is already working well for you, don't disrupt it. Leave well enough alone, and focus on fun new makeup products instead of a new routine.

Use Waterproof Mascara
Forgetting to use waterproof mascara is a very easy thing to do, especially if you don't usually wear it. However, if there's one day that you will definitely need it, it's your wedding day, so it's very important to remember!
Emotional tears are pretty, but what they can do to your wedding makeup is not. This is why you must use a good waterproof mascara. Even if you don't think you'll cry, waterproof mascara can be helpful if your wedding is outdoors in the hot sun.

Use Both Moisturizer And Primer
Moisturizer on the wedding day is a complete necessity. It helps your skin remain hydrated underneath your makeup, and it makes your skin feel much better.
Primer should definitely be used as well, as it combats shine, fills fine lines, hides large pores, and helps your makeup go on smoother and last longer. You should put on moisturizer, then primer, then concealer, then foundation.

Apply Highlighter Correctly
A very popular style for wedding makeup is to look "shimmery". It's a gorgeous bridal look, however, sometimes problems arise because of the way the highlighter makeup is applied.
If it goes on the wrong area, you'll end up looking sweaty or oily in person and in pictures. Instead of applying it to your forehead or nose, try to keep it to the top of your cheekbones. Watching a highlighter tutorial will help, too.
Go SPF-Free, If Possible
If you're having an outdoor wedding in the middle of the day, you're probably planning on using makeup with SPF added to it to protect your skin from sun exposure. If that's the case, it's a good idea. However, if you're not going to be spending that much time outdoors, then you may want to skip the SPF-laced products.
Why? SPF ingredients tend to make the skin come across very pale in photos and look a completely different shade than the rest of your body.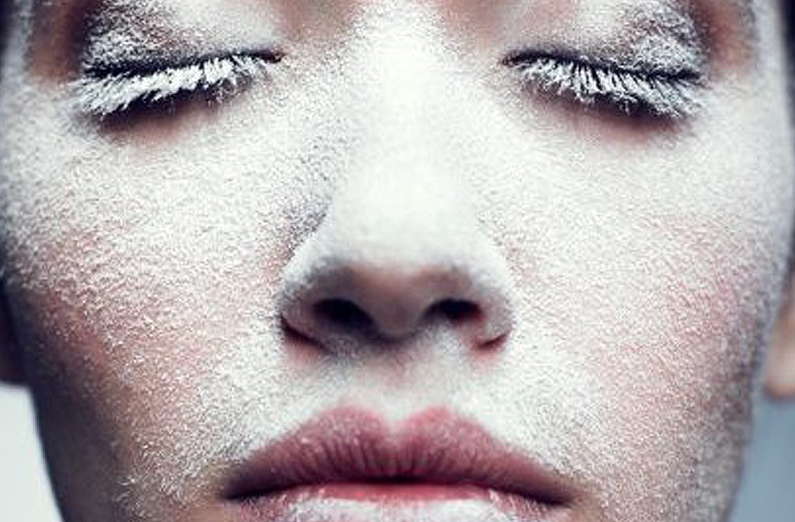 Image Source: makeupwithme.org
Beware Of White Powder
If loose powder is part of your wedding makeup plan, you may want to test it out beforehand with photos. Some powders can make your skin look extra-white when they're photographed.
The trick is to carefully blend the powder and not apply too much of it. Try to learn from Hollywood's powder mistakes.
Play Up Your Eyelashes
Whether you decide to use false eyelashes or just a great eyelash curler, don't ignore your lashes. Mascara is one thing, but framing your eyes beautifully so that people are drawn in is another thing altogether.
Eyelash curlers work very well, especially if you heat them up before pressing your lashes. An old trick is to heat them up with a lighter, let them cool off for a few seconds, then curl your lashes. Pinch the curler down pretty firmly (but don't hurt yourself) for about 15 seconds, and then apply mascara immediately after unpinching.

Embrace Setting Spray And Blotting Sheets
Throughout your wedding day, you'll be surrounded by your guests and their cameras, so you'll want to look your best IRL and in those pictures that will last a lifetime—so it's important to be prepared.
An industry secret for wedding makeup includes setting spray, which will basically make your makeup invincible for about 15-18 hours. If this sounds a bit intense for you, you can go with simple blotting sheets to keep yourself shine-free during your wedding, without accidentally removing your makeup.
If you're interested in the setting spray, it's recommended to try it out before your wedding day to make sure you like it and that it doesn't irritate your skin or eyes.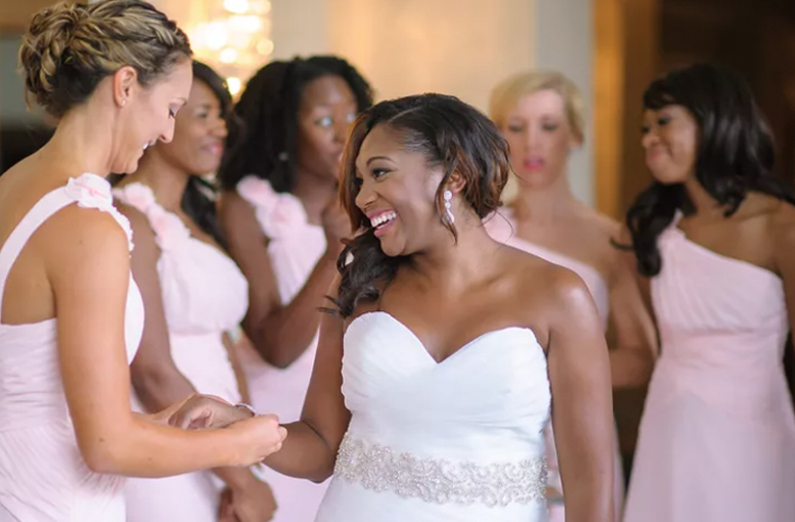 Image Source: Poirier Wedding Photography
Appoint A "Makeup Bridesmaid"
 It's a very smart idea to appoint your most responsible bridesmaid to keep an eye out for your wedding makeup. If you become sweaty, oily, or shiny, she should let you know.
Even if it's just that you need a simple touch-up, you will be very grateful that person to let you know. Your lipstick could be smeared, your mascara could be running—and you'd never know. So find someone to help!
Have a wedding makeup kit somewhere nearby so that you can easily grab it for those quick touch-ups during the day.
If you're doing your own wedding makeup, hopefully this list will help you! Just make sure you feel comfortable, beautiful, and like yourself. And if you're currently planning your wedding and you're looking for a stunning Los Angeles wedding venue to host your reception, check out our gallery or contact us for more information!