Roaring fireplaces, warm cups of cocoa, and streets filled with decorations: these are the signs that the winter season is once again upon us. It's a joyous time of year meant for spending time with family and friends, celebrating our blessings. However, it isn't often thought of as a time for weddings. More often than not, weddings are celebrated during the spring and summer—but there's something special about having a winter wedding, isn't there?
If you have decided to get married during the more festive time of year, there are a few things you should be aware of before starting your wedding planning process. Take a look.
You'll Have Limited Daylight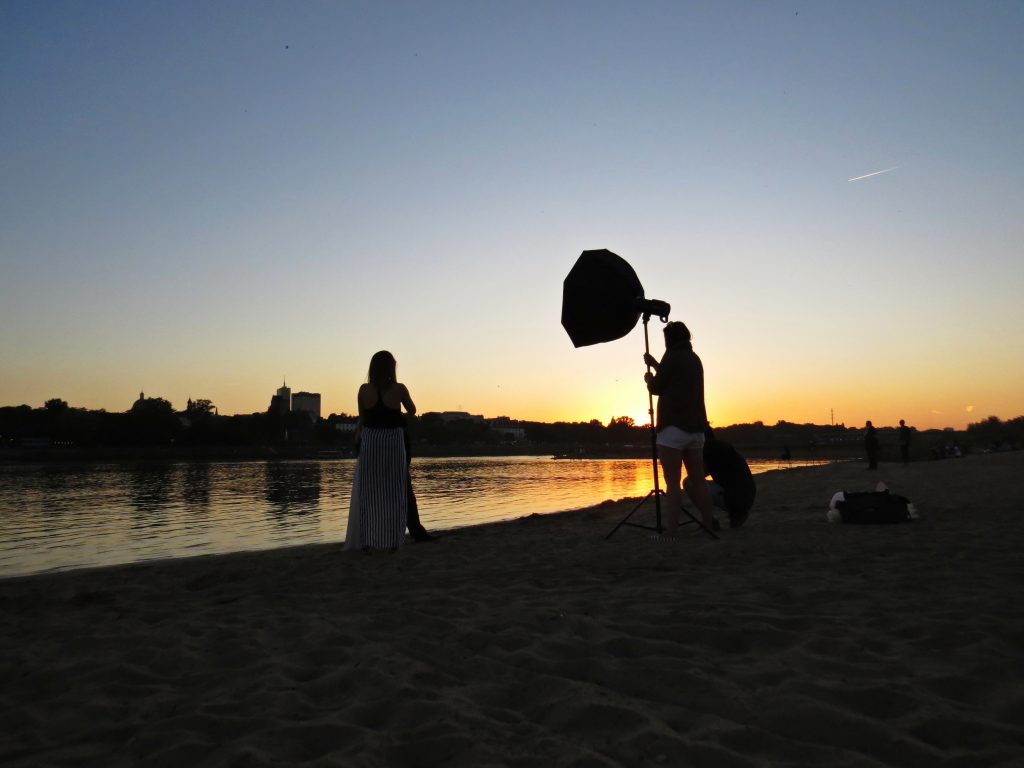 There's no need to go into a whole science lesson here to explain that during the winter, you'll have fewer hours of daylight to work with on your wedding day.
This means you'll need to make adjustments to a normal schedule so that your guests aren't stuck in the dark traveling to and from locations.
More than likely, you'll need to move everything up an hour or so to accommodate for the limited daylight.
Costs For Vendors May Change
Generally, the common theme you hear is that vendors are cheaper during the winter season compared to the rest of the year. This is because the winter season is generally a slower time for weddings, and so many vendors are willing to give a discount to lock you in as a client.
This can be true for the most part. However, if you're planning on scheduling your wedding very close to a major holiday such as Christmas, you might find that some vendors may charge more if they need to pay their employees extra time around an already-busy season.
Or, if you have a special wedding photographer in mind that you want from a different state or country, the cost of flying them in will be pricier than at different times of the year, since it's close to a the winter celebrations.
Overall you'll be able to find some discounts, but be aware of hosting your winter wedding too close to a major holiday.
Flowers Can Be Costly
It's important to be aware that some flowers simply aren't in season during the winter. If you have your heart set on specific flowers that happen to be "hibernating", you may have to have them flown in from either a different state or country, and that can become very expensive.
If you don't necessarily want out-of-season flowers, you'll be able to have beautiful floral arrangements with flowers more commonly seen during the winter. This cost is all going to depend on your taste and budget.
More Guests May Not Attend
Depending on where you live, the winter season can be tough for travel. If you live somewhere that gets snow, the weather can be unpredictable when it comes to snowstorms and blizzards.
As a result, you may experience some guests saying they can't make it because they don't want to deal with traveling in dangerous conditions.
Fortunately for Olympia, we are a wedding venue in Los Angeles and our clients don't really deal with this issue. However, the overwhelming majority of the country will have to navigate through inclement weather during the winter.
The Menu Will Probably Be Different
With the winter season often comes delicious comfort foods. Consider adjusting your wedding menu plans from your catering service to serve those cozy foods that warm your heart.
We highly recommend starting with a rich and creamy soup as an appetizer.
Backup Plans Are Crucial
If you live in an area that gets plenty of snow, we absolutely suggest that you make backup plans for your winter wedding day.
You never know how the weather will turn, and you don't want to be stuck without a plan…on your wedding day.
It's also extremely smart to speak with all of your wedding vendors and ask them what will happen if the weather causes them to be unable to get to the wedding. Most vendors that have dealt with this in the past will usually have an option for you to reschedule at no extra charge, since the weather is something you can't control.
We also recommend looking into wedding insurance to cover you in the case of things getting canceled.
Offer A Warm Drink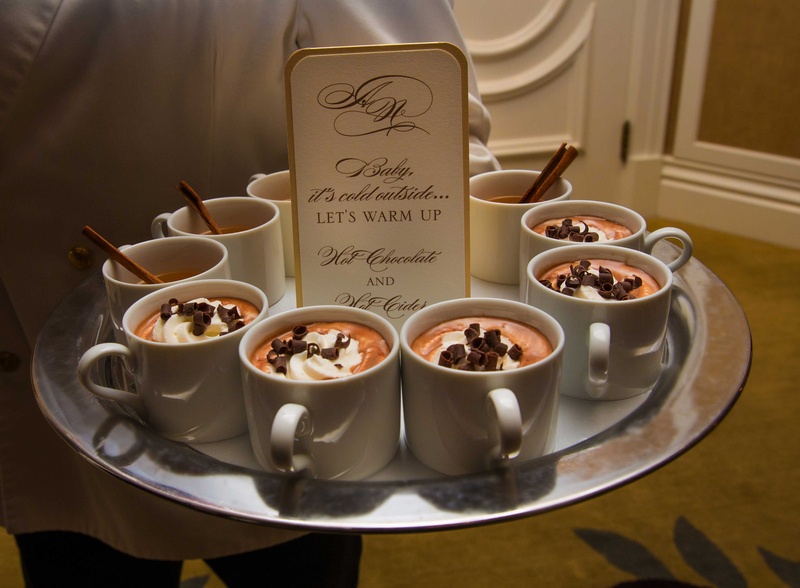 As your guests are coming in from the cold to enter your wedding reception, consider offering them a warm drink to start the evening off.
We suggest a nice hot chocolate or warm apple cider, but there are plenty of warm winter wedding drinks you can serve.
Adjust Your Photo Schedule
More than likely, you'll be planning on taking some outdoor photos during your wedding day.
Earlier, we mentioned that it gets darker much sooner in the winter. Because of this, you should speak with your photographer and make adjustments based on the amount of daylight you'll have if you want any outside portraits.
You don't want to spend all that time and money to have professional photos taken, only to realize that it got dark outside. An experienced photographer will likely already have a plan in place and discuss it with you.
Consider Having A Coat Check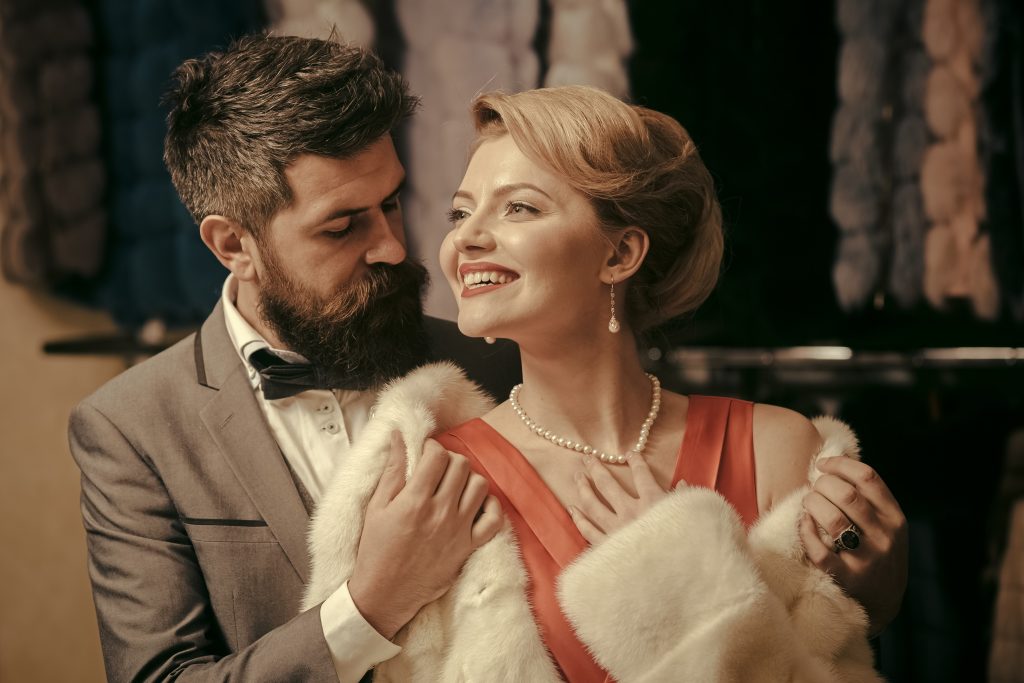 This is something that could easily be forgotten. It's going to be cold outside for your winter wedding, and that means guests are going to arrive with heavy jackets and coats.
Make sure you speak with your event venue to see if they have a coat check service for your guests. You don't want everyone to have to hang on or worry about their jackets while they're celebrating your special day.
Conclusion
If you're considering having a winter wedding, hopefully you now have a better idea about what you'll need to think about before planning. While it isn't completely different than a spring or summer wedding, there are some adjustments to be made. It's a beautiful time of year to celebrate your wedding, so why not make the most of it? If you need help planning your winter wedding, please don't hesitate to contact us at Olympia!