Trendy Dessert Dishes for Your Next Party in 2o19
Published April 11, 2019:
There's nothing quite like having interesting, unique, and beautifully-presented dessert dishes at an event. Everyone wants to eat them, but they want to talk about them even more. Every year, it seems like there's a new crop of trendy treats—and 2019 is no different. Take a look at the biggest dessert trends we've seen this year.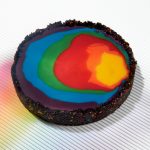 Rainbow Everything
Rainbow bagels were a huge trend in New York a few years ago, and the remnants of that trend are resurfacing now in a big way. This time around, it's rainbow everything, not just bagels. We've seen elaborate rainbow cookies, rainbow macarons, rainbow Jell-O, and even rainbow popcorn. Perfect for parties of any kind, rainbow desserts always make a big impression. Image: Gather Journal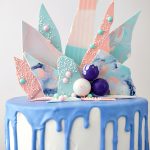 Candy Bark Cakes
There's nothing quite like combining two desserts into one. Candy bark cakes have been a huge trend so far in 2019, and it's easy to see why. They are highly customizable, colorful, and provide plenty of room for creativity with all the textures, shapes, and flavors available. They are visually stunning and make perfect dessert table centerpieces. Image: Wilton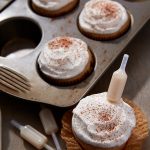 Alcohol-Infused Desserts
In the culinary world, sometimes it's fun to knock out two birds with one stone—like having your alcohol and sweets at once! For adults only, obviously, alcohol-infused desserts are becoming extremely popular for events. The alcoholic element often comes in the form of "spiked" sauces which are spread over the treat, but liquor can also be used as a direct ingredient. Image: Wilton

Next-Level Peanut Butter Cups
A huge trend that has taken off thanks to Jessie's Nutty Cups in New York (where it seems like most dessert dishes become popular), these are not your mama's peanut butter cups. Designed to be both delicious and beautiful, the new take on peanut butter cups involves different types of chocolate, a wide variety of creative toppings, and incredible flavor pairings. Image: Jessie's Nutty Cups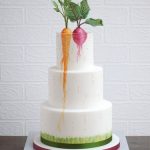 Advanced Hand-Painted Cakes
Hand-painted cakes have been around for a while, but in 2019 you will see them crop up at more and more parties. These works of art take on an entirely new element of detail and beauty. They are becoming more and more stunning, and more popular as they allow for more customization to go with specific party themes. Image: theweddingcommunity.com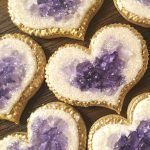 Geode Cookies
2016's major geode cake trend has infiltrated its way into other types of desserts, with the most popular one being cookies. And who doesn't love a delicious, sparkly cookie, right? Colorful and sweet, this is one trendy dessert dish that will run out very fast at your next party. Perfect for both kids' events and adult parties! Image: Marla's Cookie Co.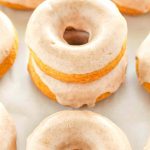 Veggie-Flavored Donuts
Hear us out: when it comes to dessert dishes, sometimes flavors come together that you wouldn't expect. The newest surprise? Donuts flavored with butternut squash, pumpkin, and sweet potato. Add the right icing on top and you have a true delight that is now seen at more and more celebrity events, as well as the trendiest bakeries. Image: livewellbakeoften.com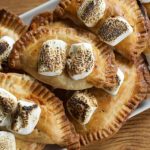 Creative Dessert Empanadas
Offering a big canvas for creativity in flavors and presentation, dessert empanadas are simply everywhere right now. With combinations like Belgian chocolate/banana, rhubarb/strawberry, Oreo/cream cheese, sweet potato/marshmallow, and much more, these little bits of heaven are taking over the dessert scene. Image: Food Republic
As you can see, the trendiest dessert dishes for 2019 are quite a festive bunch. With rainbow colors, infused alcohol, and many artistic touches, these treats aren't just delicious—they're things of beauty.

As one of the most popular events venues in Los Angeles, our team at Olympia Banquet Hall sees the most recent party trends, including popular entertainment for events, catering, décor, and more. If you're planning a party and need the perfect venue for it, check out our photo gallery or simply go ahead and see our availability!

Trendy Dessert Dishes for Your Next Party in 2o17
Published June 15, 2017:

Whether you're currently in the middle of planning a birthday party, anniversary party, wedding reception, a corporate event, a quinceañera, a bridal or baby shower, or any other type of party, you'll definitely want to include some of these uber-trendy dessert options for your guests. These each have taken summer 2017 by storm, and if you have them at your event, not only will you appear very "in the know", you'll also be giving your guests something to rave about! Here are the top desserts of summer 2017:
Over-The-Top Shakes
It looks like something a five-year-old would dream up, but these wild milkshake cocktails are highly popular due to trendsetting eateries in New York City and Australia, and are now gaining popularity all over the U.S. These colorful and delicious desserts combine regular shakes with an artistic array of toppings—anything from a whole donut to lollipops to skewers of fruit.
Emoji Cookies
With nearly everyone using and loving emojis, and The Emoji Movie just around the corner, and kids everywhere choosing an emoji theme for their birthday celebrations, these little guys are all the rage right now. 2017 may be THE year of the emoji, and of course food is reflecting that, too. These cookies are popping up everywhere, especially at the trendiest events.
Mirror Glazes
Because our society is extremely image-obsessed, pretty desserts tend to catch on very fast. Such is the case with anything coated in a mirror glaze, which makes any cake, éclair, macaron, or anything else look breathtakingly chic. You've probably seen this trend around the hottest bakeries and shops, and it's certainly catching on in the world of celebrity events. With good reason, too: this trend is so visually striking.
Mini Desserts
You'll fall in love with the cutest addition to this list! This trend began in Paris and has made its way to the U.S. this summer. Not only are they adorable and totally photography-worthy, they also help people keep their summer bodies in shape by keeping portions baby-sized. Whether it's mini donuts, mini ice cream cones, mini mason jar apple pies, or mini anything else, these little guys are a current favorite.
Bubble Waffle Cones
Like waffle cones, but a lot more interesting! With origins in Hong Kong, these bubble waffle cones have made their way into American pastry shops. Visually unique, these are a favorite to snap on Instagram, and are fun to eat because of their great texture. Bubble waffle cones also come in a wide variety of flavors, including strawberry, matcha, blueberry, and orange.
Citrus And Tropical Desserts
These are normal flavors for the summertime, however, 2017 is seeing a lot more creativity and unique combinations with them. Familiar seasonal flavors like coconut, pineapple, and lemon-lime are re-introducing themselves in the form of crème brulees, jellies, meringues, and sorbets, and restaurants are serving them with a mix of different textures, flavors, and temperatures.
Cereal-Dessert Mashups
This trend includes everything from cornflake-marshmallow cookies to Fruity Pebbles being sprinkled on top of ice cream. Cereal in the dessert industry is big at the moment, and why not? Cereal has always been a satisfying treat and the dessert of breakfast time. Now it's actually dessert!
Looped Churros
It's the next generation of churros! Started by a shop in Orange Countyloop, looped churros offers more dipping and topping opportunities than regular stick churros. They come dipped in chocolate, frosting, milk, and more, and can be topped with any number of amazing things. There are even rainbow looped churros!
If you want any of these super-trendy top desserts of 2017 for your upcoming party, it's completely possible with the right catering!